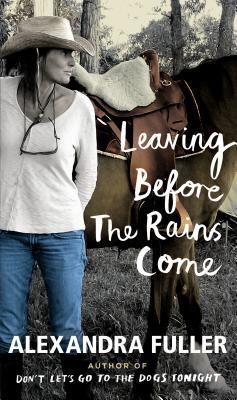 Summary
(courtesy of
Goodreads
): A child of the Rhodesian wars and daughter of two deeply complicated parents, Alexandra Fuller is no stranger to pain. But the disintegration of Fuller's own marriage leaves her shattered. Looking to pick up the pieces of her life, she finally confronts the tough questions about her past, about the American man she married, and about the family she left behind in Africa. A breathtaking achievement, Leaving Before the Rains Come is a memoir of such grace and intelligence, filled with such wit and courage, that it could only have been written by Alexandra Fuller.
Leaving Before the Rains Come
begins with the dreadful first years of the American financial crisis when Fuller's delicate balance—between American pragmatism and African fatalism, the linchpin of her unorthodox marriage—irrevocably fails. Recalling her unusual courtship in Zambia—elephant attacks on the first date, sick with malaria on the wedding day—Fuller struggles to understand her younger self as she overcomes her current misfortunes. Fuller soon realizes what is missing from her life is something that was always there: the brash and uncompromising ways of her father, the man who warned his daughter that "the problem with most people is that they want to be alive for as long as possible without having any idea whatsoever how to live." Fuller's father—"Tim Fuller of No Fixed Abode" as he first introduced himself to his future wife—was a man who regretted nothing and wanted less, even after fighting harder and losing more than most men could bear.
Leaving Before the Rains Come showcases Fuller at the peak of her abilities, threading panoramic vistas with her deepest revelations as a fully grown woman and mother. Fuller reveals how, after spending a lifetime fearfully waiting for someone to show up and save her, she discovered that, in the end, we all simply have to save ourselves.An unforgettable book, Leaving Before the Rains Come is a story of sorrow grounded in the tragic grandeur and rueful joy only to be found in Fuller's Africa.
And here's what I thought:
I just re-read this book, because the author will be coming to one of the local libraries by me. Her books (all three of them) are some of my favorite memoirs. The first book I read of hers,
Don't Let's Go to the Dogs Tonight
, was a title I read with a nonfiction book group at a library. We all really liked the book, and it turned out to be one of those books that I kept telling people about (family, friends, library patrons) and I bought a few extra copies and gave them to family. Then, I read her second book,
Cocktail Hour Under the Tree of Forgetfulness
, and I enjoyed it just as much as her first book. So, when this book came out, I read it, and then had a nice time re-reading it.
I have no shared experiences with this author, but I enjoy becoming immersed in her world. It may be odd to say that she's a gifted storyteller, because that's usually what you say about someone who writes fiction. However, she brings her stories to life, and she has an inspiring, heartbreaking and vivid writing style.
Would it be selfish to say that I'm hoping she writes another book sometime in the future?
First lines:
"Dad says he's going to die next week," Vanessa said. The phone line from Zambia was good for once. No echoing no hopping, no static. Still, I felt the distancing power of the whole of the Atlantic Ocean between us."