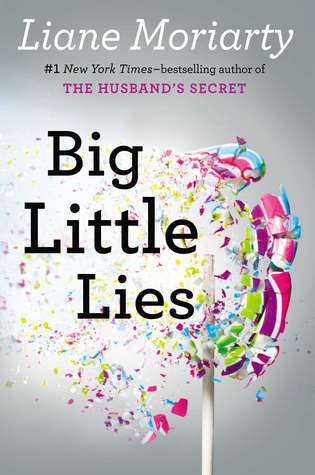 Summary
(courtesy of
Goodreads
): Sometimes it's the little lies that turn out to be the most lethal. . . . A murder… . . . a tragic accident… . . . or just parents behaving badly?
What's indisputable is that someone is dead. But who did what?
Big Little Lies follows three women, each at a crossroads: Madeline is a force to be reckoned with. She's funny and biting, passionate, she remembers everything and forgives no one. Her ex-husband and his yogi new wife have moved into her beloved beachside community, and their daughter is in the same kindergarten class as Madeline's youngest (how is this possible?). And to top it all off, Madeline's teenage daughter seems to be choosing Madeline's ex-husband over her. (How. Is. This. Possible?).
Celeste is the kind of beautiful woman who makes the world stop and stare. While she may seem a bit flustered at times, who wouldn't be, with those rambunctious twin boys? Now that the boys are starting school, Celeste and her husband look set to become the king and queen of the school parent body. But royalty often comes at a price, and Celeste is grappling with how much more she is willing to pay. New to town, single mom Jane is so young that another mother mistakes her for the nanny. Jane is sad beyond her years and harbors secret doubts about her son. But why? While Madeline and Celeste soon take Jane under their wing, none of them realizes how the arrival of Jane and her inscrutable little boy will affect them all.
And here's what I thought:
I wound up enjoying this a heck of a lot more than I thought I would. I had read another book by this author, The Husband's Secret, and thought it was ok, but forgettable. This book, on the other hand, was a page-turner!
I think I might have enjoyed this book partly because it felt like a voyeuristic glance into the lives of three women who are completely unlike me. I liked how the author gave us the stories of all three main female characters, so that you get the whole story coming from their different viewpoints, with some of their own stories about their lives, as well. Contributing to this are the different viewpoints from other characters, even if they are quite minor, which are sprinkled throughout the book. There is a constant referring to a horrible incident on trivia night, but you don't get there until almost the end of the story, so it's a constant buildup throughout the book. I liked the pacing, and I kept turning the pages because I was just dying to know what was going to happen (and then, when I got to it, let out a big gasp .... out loud, waking up my husband, who was sleeping next to me while I was reading in bed, staying up past my usual bedtime, and continuing to turn the pages even though my left arm was getting pins and needles).
Anyway, back to this story ----
Is it serious literature? No. And it's not meant to be. But, I found it to be a really good story, with characters that I cared about, and could clearly envision. In fact, the author does a great job with the minor characters, and I found I could clearly see them in my head, as well. I got caught up enough in this book that I was sneaking a few pages of reading when I was supposed to be doing housework (which really, can always wait another half-hour, right?), just because I really wanted to know what was going to happen to the characters. This was a fun read, but one that also made me think a bit about relationships --- ones between husbands and wives, and ones between friends.
First lines:
"That doesn't sound like a school trivia night," said Mrs. Patty Ponder to Marie Antoinette. "That sounds like a riot."